| | |
| --- | --- |
| Handicapped Fall shirt | $16.99 |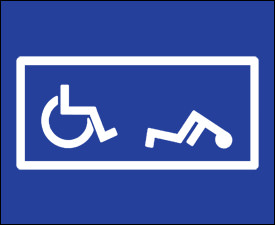 "So I was just sitting there at Denny's, right, eating my food and some guy walking past me to leave goes, 'I hope you fall out of your chair!' It caught me off guard for a second so when I figured out that he was making a reference to my shirt, I threw my spoon at him and demanded that he say that to my face. After no response I yelled again from across the restaurant and threw Georg's spoon at him, 'Hey, tough guy, what did you say to me?' After getting hit with two spoons and getting yelled at, he just lowered his head and quickly walked out the door. Man, some people are just assholes."

This t-shirt story comes from one of the biggest jerks that we know. Because Steve wore his Handicapped Fall shirt that rubs quite a few people the wrong way, some guy felt that he needed to stick up for the handicapped and defend their honor. I guess the moral to this story is: You can say whatever you want, as long as you can back it up, or never get in a spoon fight with Steve.
This is the most offensive T-shirt we carry (and our favorite).
Available Options:
Color:
Blue
Size:
Medium
Large
X-Large
XX-Large